Identity Protection Tips
Gate City Bank is committed to the protection of your personal information and wants to help you avoid fraud and identity theft scams. While we monitor your accounts around-the-clock for suspicious activity, there are steps you can take to prevent becoming a victim. Following best practices for email, as well as online and offline identity protection will assist in reducing your risk.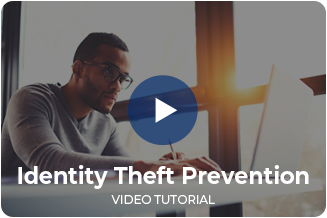 Username and Password Best Practices
Don't use your name or parts of your address or phone number
Don't use your email address
Don't use the same user ID and password on all accounts, especially your financial accounts.
If you choose a generic username when creating an online account (for example, online banking), you will be more susceptible to a robot automatically logging in. For example, if you have a username of fraudguy, that would be much easier for a randomized program to guess than [email protected]. This will decrease the chances that your username will be guessed. Also, if you have a username of fraudguy1 and everyone wants that login name, you might have another person with fraudguy11 and just by mistyping, this could cause an account to be locked. For additional information on the importance of strong usernames and passwords, click here.
---
Email Safety
Email safety means following best practices when you send and receive email.
Don't include sensitive information in email.
Never click on links within an email.
Don't open SPAM or attachments from strangers.
Be suspicious of emails asking for personal information.
Be selective when providing your email address.
---
Online Identity Protection
Online identity protection means following best practices to help you search the Internet safely and securely.
Update and strengthen the security of your online passwords.
Do not use the same username and password on all accounts, especially your financial accounts. This prevents information compromised on one online account from being used on other online accounts.
Use a secure browser and trusted computer for sensitive transactions.
Log off when you're done using web sites that require a user ID and password.
Disconnect and shut down when you're not using your computer.
---
Offline Identity Protection
Offline identity protection means following best practices to help you secure your personal information in the "real world."
Monitor your postal mail.
Don't give out your personal information freely.
Check your credit report annually.
Shred documents containing personal information before discarding them.
Beware of phishing - this is a scam where phone calls are made in an attempt to obtain personal, and sometimes financial, information from individuals. They have even been known falsely display the

caller ID as a reputable company.
---
Prevent Wire Fraud
In our digital world, money transfer schemes are evolving as cyber thieves become more sophisticated. Follow these tips to keep your money safe from wire fraud.
Be suspicious. If you receive a request to transfer funds via email, initiate a phone call to verify the authenticity of the request. Verify the legitimacy of any numbers provided via email through an internet search, or by calling the number on the back of your Debit Card.
Watch for red flags. Scammers can be inventive, and their money requests can often look like official correspondence. Look for inconsistencies in email addresses, poor grammar and spelling.
Receive account alerts. Sign up for Online and Mobile Banking and set up account alerts. Account alerts are a proactive approach to prevent fraud.
Protect your home sale. Real estate transactions move fast and are a target for fraudsters who try and compromise a title company's email account claiming a change in wire instructions. If you're working with a title company and expecting to make a wire transfer, ask when to expect the email. Learn more about mortgage wire fraud here.
Take action immediately. If you think you may have been a victim of wire fraud, contact your Bank immediately. Gate City Bank is here for you and will help you take the appropriate steps to report wire fraud.
---
Social Media
Social media is a fun way to interact with others, but it is important to stay secure when using social media. We have put together a list of tips to help you enjoy social media safely!
Use a strong password. Choose a password that is more complex using different characters and numbers. Use a different password for each of your social media accounts.
If you use your mobile phone to browse social media, password protect your device.
Review friend requests carefully. If you don't know the person, don't accept their request. Watch for fake accounts - if you are already friends with the requestor, reach out to them on their old profile before accepting their request.
Be cautious when clicking on links, as they may lead you to a malicious website.
Don't reveal sensitive personal information on social media, such as your address, financial information or phone number. The more you post the easier it is to have your identity stolen.
Familiarize yourself with the privacy policies of the social media channels you use and customize your privacy settings to control who sees what.
---