Identity Theft
Protecting your computer's software helps to protect your personal information. Follow the tips below to assist in preventing fraud on your computer. To learn more about Identify Theft for Businesses, click here.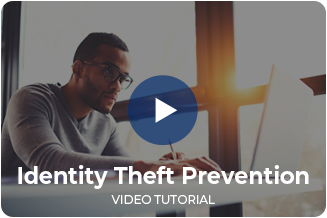 If you suspect your identity has been stolen, contact your nearest Gate City Bank location or call our Customer Service Center at 701-293-2400 or 800-423-3344. We have identity theft specialists who are trained to assist you.
10 Ways To Protect Your Identity
1. Do not give personal information, such as account numbers or Social Security numbers, over the phone, through the mail or over the Internet unless you initiated the contact or know with whom you are dealing.
2. Store personal information in a safe place and shred old credit card receipts, ATM receipts, old account statements and unused credit card offers before throwing them away. Protect your PINs and other passwords. Avoid using easily available information, such as your mother's maiden name, your date of birth, the last four digits of your Social Security number, your phone number, etc.
3. Carry only the minimum identifying information and credit cards you need.
4. Pay attention to billing cycles and statements. Contact the bank if you do not receive a monthly bill - it could mean the bill has been diverted by an identity thief.
5. Check account statements carefully to ensure you authorized all charges, checks, or withdrawals.
6. Guard your mail. If you have a mailbox with a flag to signal that you have outgoing mail, do not use it to mail bills. Promptly remove incoming mail.
7. Order copies of your credit report once a year.
Annual Credit Report Request Service
P.O. Box 105281
Atlanta, GA 30348-5281
877-322-8228
Annual Credit Report
8. If you find an error or suspect identify theft, contact the credit reporting agency or the creditor regarding the problem. You can place a credit freeze on your credit which puts a "lock" on your credit file and stops the credit reporting agency from sharing your credit information without your consent.
9. If you prefer not to receive pre-approved credit card offers, you can opt out by calling 888-5-OPTOUT.
10. If you want to remove your name from many national direct mail lists, send your name and address to:
DMA Mail Preference Service
P.O. Box 9008
Farmington, NY 11735-9008
Learn more about Identity Theft